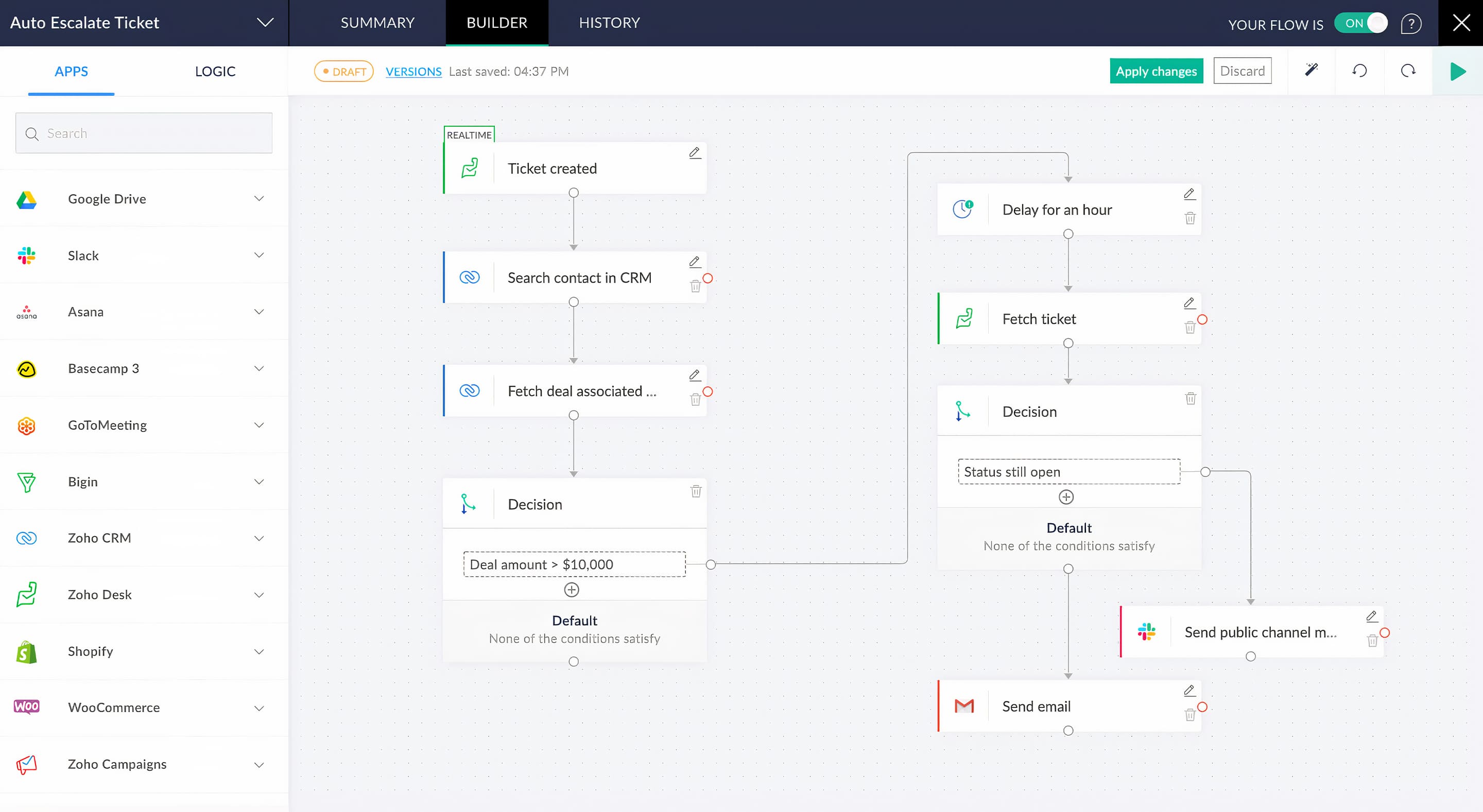 Watch the video
Your integrations are sealed up tight with GDPR-ready Zoho Flow.
Connect. Automate. Orchestrate.
From daily work chores to detailed workflows, automate all your business tasks with Zoho Flow.
Connect your key applications
Connect your apps to ensure an uninterrupted flow of information between them. Get emails, reports, records, and more to move across your apps automatically.
Make it all happen on a dynamic builder
Stop spending your time and effort coding complex integrations. Easily set up a trigger and drop actions onto the builder to integrate your applications seamlessly.
Automate extensively with multi-step flows
Design flows to accomplish a whole series of routine tasks that would otherwise eat into your productive work time. Stay focused on the heart of your business.
Off-the-shelf solutions
It gets even simpler with our collection of pre-built flows. Pick the ones you like and get started right away.
Orchestrate an efficient business
Work as a team on building workflows that connect information across departments. Coordinate with teammates and bring harmony to your business processes.
Bring your business apps together
Create custom integrations to automate workflows across different functions of your business.
Trello

Zoho CRM

Asana

Slack

Zoho Flow

Gmail

Google Calendar

Creator

Zoho Desk
"We chose Zoho Flow for its ability to connect various apps in a simple way. It helped us provide our clients with an automated billing process that saves them over 50 hours of manual work per year. The platform is intuitive and easy to use even for non-developers like me."
Julien GranjeaniDAYit - Swiss Digital Intelligence
"With webhook support and a rich ecosystem of business apps, Zoho Flow has helped us automate our order fulfilment process, and also allowed us more control over data and their movement across apps. The platform is very intuitive and easy to use."
Derek MurashigeCIO, Western Container Sales
"Zoho Flow has automated our entire "Security Operations" process, saving us a lot of manual work and admin overhead, in turn enabling us to focus our efforts on providing clients with accurate and quality services."
Neville MaderDirector, Perth Security Services