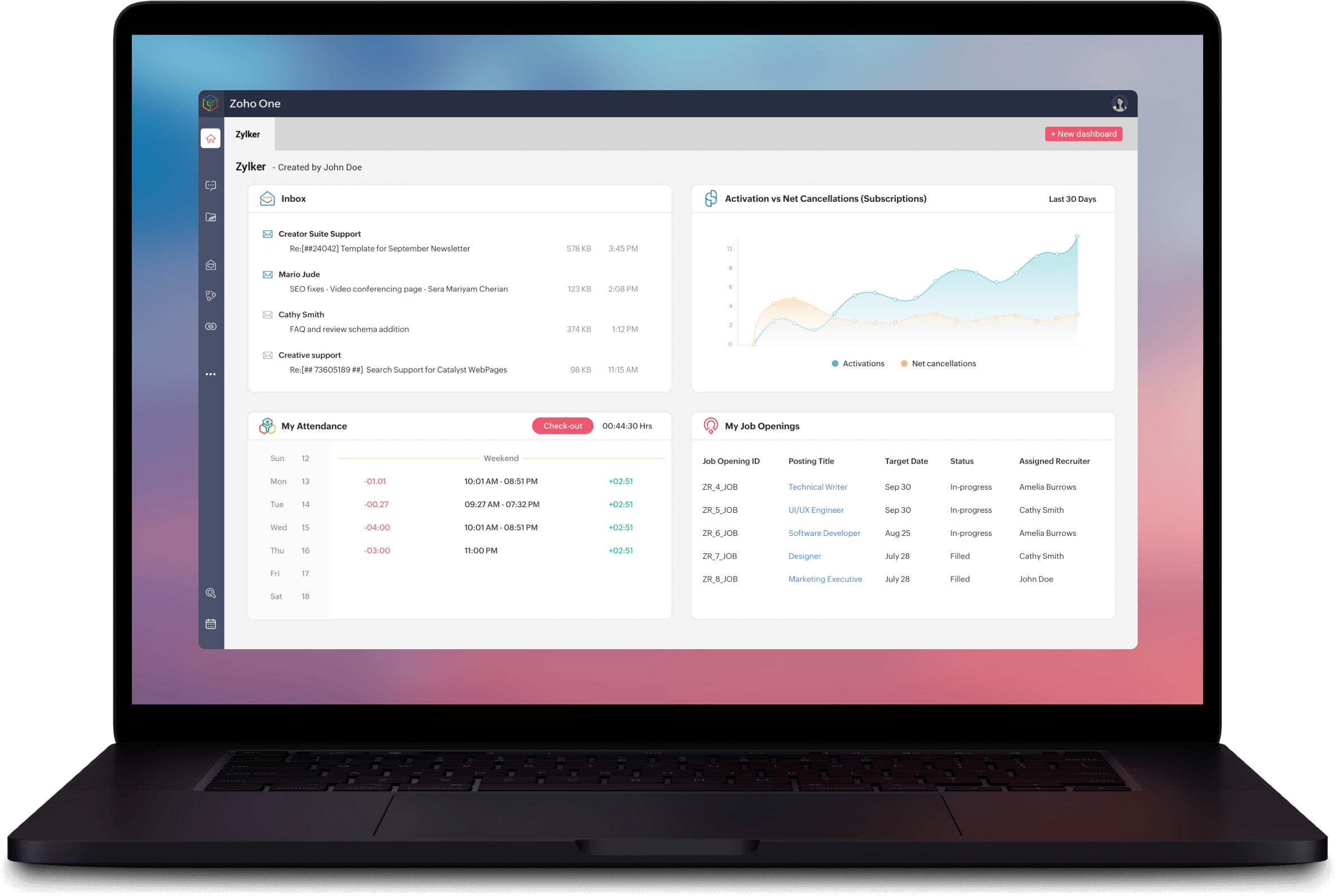 Unified

Experience

Services

Applications
We launched Zoho One in 2017 with a vision to build the most comprehensive software solution, packed with powerful applications, smart services, and an extendable platform to run an entire business.
In 2021, we are excited to unveil the all new Zoho One with a unified user interface, customizable dashboards, improved services, new features, and much more.
Unified Experience
One unified
user interface
‌All the power of Zoho One in one browser tab. Launch applications and manage your entire business from one place.
Custom
dashboard
When every business is unique, why should all BI Dashboards look the same and track the same metrics?
With Zoho One's customizable dashboard, you can view and arrange all the data your business needs with the help of our 50+ smart widgets.
Centralized
calendar
A better way to organize your business meetings.
Sync all your appointments across applications. Quickly create meetings and share the details with your team.
Unified Services
Work graph
Introducing the power of contextual search for growing businesses.
Get to know your coworkers, their connections, and other touch points across the organization better.
Dedicated app and device management
As the world moves towards remote and hybrid work, productivity depends on businesses creating secure work spaces across their devices.
‌In the new Zoho One, you can enroll and monitor devices, create profile-based restrictions, and install apps remotely.
Org dictionary
Contextual language is key to a vibrant business, whether it's business terms, product inventory, custom fields, or even names of employees.
Create an intelligent organization-wide dictionary that constantly updates itself and see the language of your business evolve.
Unified Apps
New apps included in the unified Zoho One to add more power to your business.
Commerce
Payroll
TeamInbox
Lens
Learn
DataPrep
Early reactions from happy customers
"Zoho's approach towards instilling security and trust gave us a good amount of confidence in their brand. It all started with the implementation of a single HRMS solution and later how they partnered with us to solve our core problems."
"The comprehensive data pulled from the front and back office, alongside our existing third-party apps, have helped us get to know our customers and their expectations, doubling the satisfaction rate each quarter."
"I've never seen the versatility and customizations with any other system like Zoho One. Along with the out-of-the-box integrations offered, the customization made it possible for us to unify a lot of our processes onto one system."
"Zoho One is unified in a way that feels logical and intuitive, which helps us keep all our processes in one place. The decision to make the switch to Zoho One came about because we needed to find a system to unify all of our customer service in one place."
Extendable platform
With 1,000+ Marketplace extensions, 100+ telephony providers, and an in-house integration builder, Zoho One plays well with third-party apps.
Additionally, our extensive developer tools enable you to build custom applications, and operate your entire business from a single unified platform.
Google Analytics

Survey Monkey

HubSpot

WhatsApp

MailChimp

Campaigns
Dropbox

Ms Office

Asana

Twitter

G Suite

Bamboo HR

Salesforce

SalesIQ
Box

Atlassian

Marketo

Wrike

Zendesk

Workplace